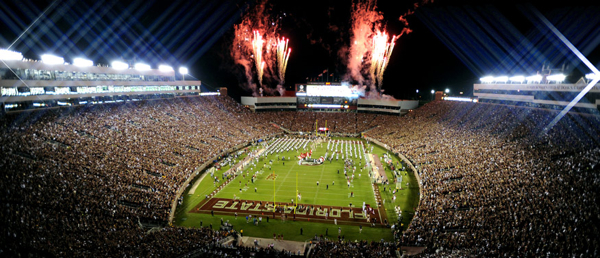 Whether you're a sports enthusiast because you've been playing on teams since you were four years old or because you're a dedicated spectator, you probably want to go to a university where athletics are a big deal. There's one foolproof way to tell that a school is serious about its sports: NCAA championships.
That's how we compiled this list of the best colleges for sports lovers.
Methodology
We started by researching the three most popular college sports – basketball, football, and baseball – and recorded the championship winners for the last 50 years. The one exception was women's basketball, since the NCAA only has data going back to 1982. Once we had lists of winners for each sport, we recorded which universities had claimed titles on more than one occasion. This could mean that they've won the title for the same sport in numerous years (like UConn or Tennessee in women's basketball) or that they've won titles for more than one sport (like Georgia in both football and baseball).
But we didn't stop there. We wanted to factor in affordability as well, so we sorted the schools based on their net prices (in-state tuition minus average financial aid package) and cut off the list at 30 schools. All the schools have net prices below $22,000, which research has shown is roughly the typical price tag for a year of college. So below, you'll see a list of the 30 most affordable universities that have won multiple NCAA Division I championships in the last 50 years. They are listed from the most expensive (Duke) to the most affordable (Cal State Fullerton).
30. Duke University
Durham, North Carolina
Duke made the list because it has won men's basketball championships four times in the last 50 years. Although basketball may be the school's strong suit, sports enthusiasts can also participate in nineteen other NCAA athletics, including fencing, golf, and rowing. If you're not quite prepared for Division I sports you can still stay in shape; Duke offers a long list of intramurals and co-ed leagues to satiate your competitive spirit. College athletes also benefit from high-quality personal trainers (including private Pilates trainers), group fitness classes, and a variety of "outdoor adventures."
Net Price: $19,116
29. Stanford University
Stanford, California
Stanford is well known for its amazing academics, but what some people don't know is that this Northern California school has also won multiple men's baseball championships. The university offers more than 35 men's and women's NCAA sports, including such unique options as gymnastics, water polo, sailing, sand volleyball, and squash. In addition to winning titles in baseball, Stanford has also claimed winning spots in water polo, tennis, lightweight rowing, soccer, gymnastics, volleyball, synchronized swimming, golf, cross country, sailing, women's basketball…the list goes on! Stanford students also enjoy 20 club sports, a variety of fitness programs, and state-of-the-art recreational facilities.
Net Price: $19,109
28. University of Connecticut
Storrs, Connecticut
The University of Connecticut, colloquially known as "UConn," has a women's basketball team that, it is safe to say, has dominated the sport. To be more specific, the Huskies have won nine NCAA Division I titles in the last 30 years. UConn offers 10 men's sports and 12 women's sports in all the traditional areas, as well as both field hockey and ice hockey. The school makes it easy to get in on the action, even if you're not the one on the field or court. In fact, you can get football season tickets for as little as $25 per game! UConn has a long history of winning national championships, dating back to the 1948 soccer season when the men's team clinched the title.
Net Price: $18,411
27. Ohio State University
Columbus, Ohio
Ohio State made it onto this list because the men's football team has won multiple championships in the last 50 years. Furthermore, the school's baseball team was victorious back in 1966. Of course this is not Ohio State's only claim to fame, and the school boasts very successful teams in many of its nearly 40 men's and women's sports. Most recently, the school's pistol team won the 2014 NRA Intercollegiate National Championship. The rowing team won its first championship in 2013 and multiple teams claim conference titles with regularity. The "Buckeyes" also lead their Big 10 Conference in the number of athletes who have made the "Distinguished Scholars" list.
Net Price: $17,406
26. University of South Carolina
Columbia, South Carolina
Recently, South Carolina has made a name for itself by winning two NCAA baseball championships in the last five years. The latest stats reveal that USC has 18 intercollegiate teams comprised of nearly 700 student athletes. Although the school's athletes are serious about sports, they are also serious about academics. The average athlete GPA is a 3.2, more than 60 maintained a 4.0 in the 2013-14 school year, and there are currently 18 Academic All-Americans. USC students overwhelmingly support their athletes, and total home attendance across all sports frequently exceeds one million. The school is also proud to lay claim to the #1 pick of the NFL draft in 2014.
Net Price: $17,220
25. University of Kansas
Lawrence, Kansas
The University of Kansas has six men's sports and ten women's sports in the Big 12 Conference and has earned two NCAA Division I men's basketball championships in the last 50 years. Jayhawk athletes are treated well and have access to a state-of-the-art strength and conditioning center, a highly-skilled sports medicine staff, and comprehensive nutrition services. If you're not destined for collegiate athletics, there's no need to worry. You can still enjoy tons of intramural teams and a variety of sport clubs, like Jiu Jitsu, Quidditch, and water skiing. There are also more than enough outdoor pursuits to keep you busy, from backpacking to canoeing to rock climbing.
Net Price: $16,923
24. University of Oklahoma
Norman, Oklahoma
The University of Oklahoma has claimed titles in both football and baseball over the last half a century. The Sooner football team is also eight time Big 12 Champions and has the most wins and the highest winning percentage of any team since World War II. The team also claims 154 All-Americans and five Heisman Trophy winners. The men's basketball team also performs fairly well in tournament play and has made it to the national championship more than once. To cater to the school's large base of sports enthusiasts, OU offers special "Seats for Sooners" promotions that allow students to earn reduced price tickets to their favorite sporting events.
Net Price: $16,780
23. Oregon State University
Corvallis, Oregon
Oregon State "Beavers" can take advantage of competitive athletics at the NCAA, intramural, club, and recreational level. With nearly 20 Division I teams between men's and women's athletics, sports lovers will have more than enough to keep themselves busy. The wrestling and cross-country team have clinched national victories in the past, and the school's spirited athletic department has not slacked off since then; the baseball team recently won the title two years in a row. You'll also no doubt get engrossed in the passionate football rivalry with the nearby University of Oregon Ducks, known as the "Civil War." Intramural sports include flag football, bowling, wheelchair basketball, pickle ball, sand volleyball, and more than 30 other leagues.
Net Price: $16,219
22. University of Tennessee
Knoxville, Tennessee
Despite being a member of the highly competitive Southeastern Conference, the University of Tennessee "Volunteers" are powerhouses in multiple sports. Perhaps this is best illustrated in women's basketball, where UT has brought home 7 NCAA championships in the last few decades. Across all sports, Tennessee has claimed nearly 200 conference titles within the SEC and the only team that does not compete in the SEC, women's rowing, won the C-USA conference championship in 2010. Overall UT lays claim to 23 national championships in women's basketball, football, men's indoor and outdoor track & field, women's indoor and outdoor track & field, and men's swimming & diving, and the football team is the 9th most winning program in the NCAA.
Net Price: $16,062
21. University of Michigan
Ann Arbor, Michigan
U of M has carried a strong tradition of superior athletics since the mid 1800's, and over the course of its existence has achieved more than 50 national championships in 12 sports. This includes titles across men's basketball, football, and baseball, plus conference championships in just about every sport in which the school competes. In the 2013-14 school year alone Michigan won Big Ten championships in men's basketball, men's and women's gymnastics, men's swimming and diving, women's tennis, and softball. As a school that also has a reputation for academic excellence, Michigan also frequently names players to the roster of Academic All-Americans each year.
Net Price: $15,939
20. Florida State University
Tallahassee, Florida
Florida State has an extensive network of athletic and intramural teams that includes nearly 20 NCAA Division I sports and more than 40 active club teams. Plus, the more than 50 intramural options span from "battleship" to innertube water polo to walleyball. When it comes to intercollegiate athletics, FSU is a competitive force and has won three football national championships, including the 2013 title. The school's star quarterback was also named the 2013 Heisman Trophy winner after leading the team through a series of victories. As a student at FSU you'll quickly learn the traditions that surround Seminole athletics, including the words to the rousing war chant and the symbolism of the "Unconquered" statue.
Net Price: $15,511
19. University of Texas
Austin, Texas
UT Austin, a leader in Big 12 sports, has claimed more titles in men's and women's sports than any other school in the conference since the league began operating in the mid-1990s. Austin is also the proud owner of four national championship titles in football and overall ranks second in NCAA victories. Across all sports the Longhorns have won more than 40 national championships, and the school was once named the #1 Division I athletic program by Sports Illustrated magazine. This accolade doesn't just represent overall NCAA title wins, but also the overwhelming student support of athletic programs, attendance at games, and the active participation in club and intramural leagues.
Net Price: $15,336
18. University of Florida
Gainesville, Florida
The Florida Gators have a highly competitive athletic program that includes 17 NCAA Division I sports, four of which were ranked #1 in the SEC for the 2013-14 season (baseball, men's basketball, men's swimming and diving, and women's indoor track). Florida also currently holds #1 national rankings in gymnastics, softball, and outdoor track for both men and women, and lacrosse is ranked #1 in the American Lacrosse Conference. In the past, the school has won national championships in both men's basketball and football, most recently winning in the football national championship in 2008. The school attracts a plethora of top-notch athletes, including 42 football players who have ended up as first round NFL draft picks.
Net Price: $15,157
17. University of Nebraska
Lincoln, Nebraska
The Nebraska Cornhuskers, often just called the "Huskers," compete in the Big 10 Conference in the Midwest, producing more than 20 varsity teams in 15 sports. The football team has won 46 conference championships and multiple national titles, the women's soccer team has seen 11 NCAA tournament appearances, and women's basketball has achieved a series of bids in the NCAA tournament. The men's gymnastic team is one of the most successful in the nation and wields eight national team titles and 41 NCAA event titles. All serious athletics benefit from updated, impressive facilities and services that include the Nebraska Athletic Performance Lab and sports nutrition counseling.
Net Price: $15,132
16. University of Maryland
College Park, Maryland
Intercollegiate athletics at the University of Maryland take the form of eight varsity men's teams and twelve varsity women's teams. The Terrapins' football team has received two NCAA championship titles, nine ACC championships (the third most, behind Clemson and Forida State), two Southern Conference championships, and 11 All-America honors. The team has also appeared in bowl games 24 times and multiple players have gone on to be first-round NFL picks. Maryland's men's basketball team also won the NCAA championship in 2002 and the women's team (known as the "Lady Terps") snagged the title in 2006.
Net Price: $14,941
15. University of Kentucky
Lexington, Kentucky
The University of Kentucky has 21 varsity teams – 10 men's and 11 women's – that include all the traditional sports as well as rifle and gymnastics. The Wildcats are part of the Southeastern Conference and have collectively won 11 national championships. Most recently the men's basketball team earned the title in 2012, as did the co-ed rifle team the year before that. The men's basketball team is considered a very elite program and overall has won the most games of any NCAA team. In 2009 they accomplished an impressive goal by becoming the first team to win 2,000 games. The women's basketball team has also greatly improved, and in 2010 made it to the regional finals for the first time since 1982.
Net Price: $14,839
14. Michigan State University
East Lansing, Michigan
The Michigan State Spartans makes this list because of the impressive records of its football and men's basketball teams. The football team has won or shared six national championships, all within the last 50 years, and has also claimed victory in the Rose Bowl four times (most recently in 2014). The basketball team has taken home the title of champion twice, but other teams stand out from the crowd as well. The hockey team – the only sport not to participate in the Big 10 Conference – has won three national titles, and the golf team has achieved conference titles twice. Spartan athletics are steeped in tradition, and as an MSU student you'll quickly learn the story behind the mascot, the fight song, the marching band, and more.
Net Price: $14,526
13. University of Arizona
Tucson, Arizona
The University of Arizona is home to 500 student athletes who participate in 19 varsity sports. In total, the Arizona Wildcats have brought home 18 national championships and 37 Pac-10 Conference championships. Besides Division I intercollegiate athletics, U of A also offers a variety of intramural and club sports, fitness classes, and outdoor recreation adventures. Intramurals include everything from "battleship" to sand volleyball and are separated into three different leagues – desert, sunset, and cactus – dependent on skill level. If you're interested in joining a club, you can become an expert ballroom dancer, practice your roller hockey skills, or almost anything else that keeps you active and feeds your competitive spirit.
Net Price: $14,070
12. University of Louisville
Louisville, Kentucky
The Louisville Cardinals, with nine men's sports and twelve women's sports, have been members of the Big East Conference since 2006. In that short time, U of L athletic teams have won 58 league championships, including regular season and tournament titles. The school has the most Big East championships of any conference team other than Notre Dame and has won crowns in football, volleyball, men's soccer, men's basketball, baseball, and women's swimming and diving. In 2012 the softball team also won the Big East regular season and tournament title, and the women's track and field team has achieved five straight Big East Outdoor Tournament titles.
Net Price: $13,875
11. University of Alabama
Tuscaloosa, Alabama
The University of Alabama, whose nickname is the "Crimson Tide," is home to 15 NCAA Division I teams that together boast 22 national championships. The school's teams have also won a multitude of conference titles and the football tam in particular has held winning records dating back to 1925. More recently, the men's golf team won the national championship in 2013 and 2014, and the football team won again in 2012. Less competitive or athletically competent students can get involved in intramurals or club sports, or can just hang out in the state-of-the-art recreation facilities. Alabama also offers a variety of sports for students with disabilities.
Net Price: $13,745
10. University of California – Los Angeles
Los Angeles, California
UCLA is a highly competitive university that has more NCAA championship wins than any other school in the country. UCLA athletes have also won 250 Olympic medals – more than most countries! Bruins can play on one of more than 20 Division I teams that compete in the Pacific-12 Conference and the Mountain Pacific Sports Federation. Altogether, the university has achieved 111 NCAA team championships and 132 total national championships since the 1950s across 10 men's teams and nine women's teams. Most recently, the men's baseball and women's tennis teams won in 2013 and 2014, respectively. Bruins fans can sign up to sit in "The Den" student section to take advantage of discounted tickets and a more spirited spectator experience.
Net Price: $13,686
9. Louisiana State University
Baton Rouge, Louisiana
Together, LSU's 16 NCAA Division I teams have won 130 SEC team championships and 46 national championships, including 42 NCAA-sponsored national titles. Nine different teams have claimed national titles, with women's indoor and outdoor track being the most accomplished LSU sports. The football and baseball teams have also both won fairly recently, earning titles in 2007 and 2009, respectively. LSU is 7th in overall NCAA national wins and tied for 4th in women's NCAA-sponsored championships. LSU athletes are also academically accomplished thanks to the impressive academic center; in the 2012-13 season 152 student athletes earned spots on the Southeastern Conference Academic Honor Roll.
Net Price: $12,882
8. University of Georgia
Athens, Georgia
The University of Georgia sponsors 19 NCAA Division I teams that have won a combined 38 national championships. As of 2012, all teams together had also won 135 SEC conference titles. The baseball team is a powerful force in the nation and has made multiple trips to the College World Series, although it last won in 1990. Students enjoy the fierce rivalry with nearby Georgia Tech, and the annual Spring Baseball Classic between the two teams draws tens of thousands of spectators each year. The women's basketball team has four SEC tournament wins and has made it to the Final Four five times. Although sometimes overshadowed by the Lady Dogs, the men's basketball team has also performed well, including making 10 trips to the NCAA tournament since 1980.
Net Price: $12,862
7. Arizona State University
Phoenix, Arizona
Arizona State's 20 NCAA teams compete in the Pacific-12 Conference and together have accomplished 23 national championship wins. The women's golf team has been the most successful in the school's history, bringing home tournament wins 13 times. Following behind the golf team is the women's swimming and diving team (seven wins), baseball (five wins), and women's tennis (three wins). Sun Devil fans can stay connected through the "Inferno Insider," gather with friends for an away game viewing party, or win prizes through a variety of athletic department contests. ASU is also just as committed to academics as it is to athletics, and the school ranks 2nd for producing Academic All-Americans, only ranking behind Stanford.
Net Price: $12,380
6. North Carolina State University
Raleigh, North Carolina
NC State Athletics, known as the "Wolfpack," are home to 23 Division I teams – 11 men's, 11 women's, and a co-ed rifle team. The school officially solidified its position as an elite school in the 2012-13 season, when it was one of just three universities to simultaneously have its football team in a bowl game, its men's basketball team in the NCAA tournament, and its baseball team in the College World Series. The men's basketball team has also won the national championship twice in the last 50 years. NC State athletes can take advantage of highly skilled sports medicine professionals, integrated student athlete development plans, and large facilities that the school consistently enhances to meet the needs of the growing Wolfpack.
Net Price: $12,129
5. University of Arkansas
Fayetteville, Arkansas
The University of Arkansas has eight men's sports and 11 women's sports that compete in the Southeastern Conference. The school won an NCAA men's basketball championship in 1994 and has appeared in the Final Four six times, leading it to be named one of the top 10 NCAA programs of all time. The Razorbacks' football team also has a record of success, and went through the '64 season and a bowl game undefeated, thus earning the title of national champions. The Arkansas baseball team has also made a variety of College World Series appearances, although it has never ended victorious. Other levels of athletic competition are also very popular in Fayetteville, and more than 4,500 students participate in intramural activities and club sports.
Net Price: $12,057
4. University of North Carolina
Chapel Hill, North Carolina
The UNC Tarheels compete in Division I intercollegiate athletics in more than 25 sports, including gymnastics, lacrosse, field hockey, and fencing. The school has achieved national team and individual titles in 17 sports, including men's and women's basketball, men's and women's lacrosse, field hockey, and men's and women's soccer. The women's soccer team is by far the most accomplished of any UNC sport, with 22 national titles since 1980. The school has also produced a long list of Olympians, most recently naming several women's track and field, men's track and field, women's soccer, and women's field hockey players to teams in 2012.
Net Price: $11,994
3. Indiana University
Bloomington, Indiana
Frequently considered a top college sports town, Bloomington is home to numerous IU intercollegiate athletics teams and recreational activities. When you consider that Indiana University supports 24 varsity men's and women's team, sponsors the famous Little 500 bike race, has 40 club sports and numerous intramural teams, it's no wonder the school attracts sports enthusiasts from all over the nation. Together the "Hoosiers" have earned 24 national team championships – including five in basketball, six in swimming and diving, and eight in soccer – plus 132 individual NCAA titles. Even if you're not the most competitive student athlete, you can still take advantage of state-of-the-art facilities that cater to even the most informal athletic gatherings.
Net Price: $11,361
2. Louisiana Tech University
Ruston, Louisiana
The Louisiana Tech Bulldogs and "Lady Techsters" are part of the Conference USA and compete in Division I NCAA athletics in six men's sports and eight women's sports. The school's football team has competed in six Division I bowl games, including the Poinsettia Bowl in 2011, and has produced many notable alumni in the NFL. The basketball team has also won 19 conference championships and made six NCAA tournament appearances. The women's basketball team has been even more successful, winning national championships in 1981, 1982, and 1988. The team also has the third best all-time winning percentage of any NCAA Division I program.
Net Price: $9,137
1. California State University – Fullerton
Fullerton, California
Cal State – Fullerton has 13 varsity men's and women's Division I teams that compete in the Big West Conference, Pacific-10 Conference (wrestling), and Western Athletic Conference (gymnastics). Total, CSUF has won 13 national championships in eight different sports, including winning the baseball College World Series several times. The women's softball team has also found success, making eight trips to the College World Series and bringing home an NCAA title in 1986. Although the school no longer has a football team, the men's soccer team has seamlessly filled its place, quickly rising to #3 in the national rankings.
Net Price: $6,885
Sources:
NCAA Men's Division I Basketball Champions
NCAA Football History
NCAA Baseball History
NCAA Women's Basketball History
Oregon State Beavers
Oklahoma Sooners Football
Arizona State Sun Devils
Michigan State Spartans
Kentucky Wildcats
Nebraska Cornhuskers
Maryland Terrapins
Florida Gators Football
Tennessee Volunteers
Louisiana Tech Bulldogs and Lady Techsters
Arkansas Razorbacks